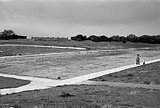 As part of a fact-finding mission to the remote Southern parts of Wales last week, BB was fortunate - nay, privileged - to take the sea air along the Knap at Barry Island. Walking to the end of the promenade, we came to a large grassed (or perhaps "scrub" would be more accurate) area delineated by straight paths and surrounded by two curved concrete seating blocks somewhat reminiscent of stands around a pool.
And indeed a nearby noticeboard confirmed that we had reached the former site of the (formerly) famous Barry Knap Lido, demolished in 2004 and since safely regenerated into an "open public space". "Regeneration" in this context appears to be a Welsh word the precise translation of which I am unsure about, but would guess at "cop-out".
The old Lido, it is undeniably true, was a dilapidated eyesore at the end, and it's questionable whether such an open-air facility on the um…breezy South Wales coast would still have been viable in the present day - certainly when run on a council budget. But the cheap and cheerful miserable solution that the Council chose to replace it, while paying lip-service to what went before (the barest outline), is one step short of the councillors dancing down the streets of Barry merrily slapping the face of each resident, particularly when it is offered in terms of an amenity. Is this the best that brilliant minds could come up with for such a well-situated and historically notable site? And would it be overly cynical to note that the new space, while notionally available for public use (if anyone can think of a use for a scrubby bit of grass), now looks more like an attractive redevelopment opportunity in waiting? (A new apartment development will look so much better compared to a bare patch of unkempt park that no one uses, won't it?)
Let's hope that Rhondda Cynon Taff council make a better hash of things when they "regenerate" the outdoor swimming pool in Ynysangharad Park at Pontypridd.
As an aside, and with one eye on my Neglected Wales project, I find it interesting that, even though practically no trace or reminder of the Lido remains, it was decided to preserve the outline of the original pool and stands. Even when they do eventually demolish something, the Welsh can't stand to say goodbye to their history entirely - this is one of my themes. (Look out for some pictures once I get the negatives developed and scanned - around 2012 at the current rate.)
Other bubbles